SEO or Search Engine Optimization in simple terms is the process of improving the quality and quantity of website traffic to a website or a web page from search engines.
marketgoo SEO tool is an easy to use (Do-it-Yourself) Search Engine Optimization (SEO) tool designed and built for Small and Medium Businesses. It helps you optimize your website for search engines like Google to improve your website ranking, which leads to more traffic or user visits to your website.
How to purchase
Login to your purely.domains account, using the top menu click Services then SEO Tools. Click find out more to be taken to the sales page, and click Signup Now under the package you require for your web site.
Select the domain  you wish to use the SEO tool on and proceed through the checkout process.

  How to configure
Once signed up you should now see the product within your account client area, with the heading Marketgoo SEO, click the manage button to continue to configure your SEO settings and scan your website.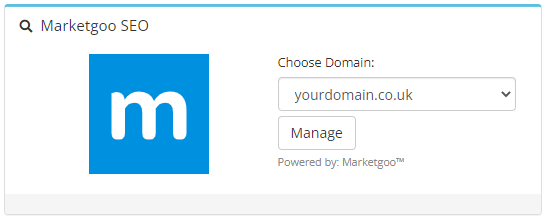 The rest of the Marketgoo SEO setup is continued via their control panel. More information on these settings can be found on their support website.